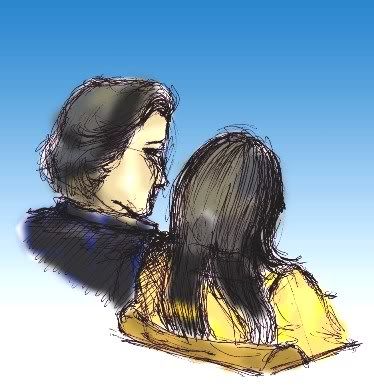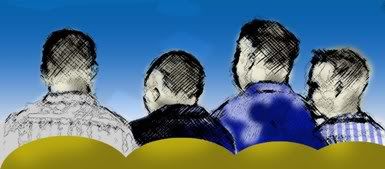 (Top) In a sketch, Nicole is shown seated beside her psychiatrist Dr. June Lopez during the continuation of the Subic Rape Case trial. (Bottom) The four American soldiers accused of rape listen to testimonies of prosecution witnesses. Drawing mine).
The defense panel is moving to paint a girl who hung out with accused American soldiers and at one point "grabbed (main suspect) Lance Corporal Daniel Smith and kissed him on the neck" in "Nicole" (not her real name) while the prosecution panel is countering it by projecting Nicole as a victim who was too drunk at that time to fight off any sexual advances.
These are the two scenarios that emerged from the first two days of hearing into the rape charges filed by the 22-year old Filipina against four US servicemen.
At yesterday's hearing, defense lawyer Jose Justiniano, in a cross examination of prosecution witness Naval Criminal Investigative Service (NCIS) Resident Agent Ronald Beltz , asked Beltz to read part of the NCIS report where a witness recounted Nicole's behavior on the night of November 1, 2005 when the alleged rape occured.
Quoting from the document, Beltz said a certain Bamberger described "Nicole" as being too drunk and seated on Smith's lap. Asked how Smith's company got to know her, Bamberger said she "had grabbed him (Smith) and was kissing him on the neck."
But the victim's counsel, Atty. Evalyn Ursua said it was just a "trick of the defense" to quote a portion of the report to make it appear that it was what happened. "That's a trick. We don't know the context or who had said it," Ursua said.
During last Friday's hearing, the prosecution panel presented Tomas Corpuz, a guard at the Neptune Bar where Nicole and the suspects supposedly met, who said he saw Smith carry a visibly drunk "Nicole" and loaded her unto a green Starex Van.
Corpuz testified that prior to that, he had seen "Nicole" loitering at the bar's function area.
"Pasuray-suray s'yang maglakad," he recounted.
The victim's psychiatrist, Dr. June Lopez, said it was and would be especially hard for "Nicole" to be reminded, event by event, of what had happened to her on the night when she was supposedly raped.
"Of course, now that she had seen them (the accused Americans) she might have nightmares because she is again reminded of what had happened to her," Dr. Lopez explained.