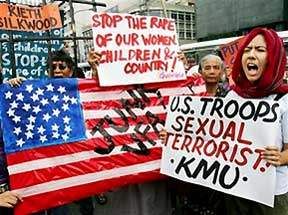 Militant groups condemn the rape of a 22 year old Filipina by six US Marines in Subic, Olongapo City on November 1.
Source:
www.bulatlat.com
Justice Secretary Raul Gonzalez today said President Gloria Macapagal-Arroyo called him up and ordered him "to protect the dignity of this country" in reference to the rape case of a 22-year old Filipina by six US Marines.
"That speaks volumes. I take it to mean that we have to respect Philippine laws while following the provisions of the Visiting Forces Agreement," Gonzalez said.
This is the first time the President has ever spoken on the issue. She has come under criticisms from various militant women's organization over her perceived silence on the issue.
"It appears, she didn't want to rock the boat as it were," Senate Minority Leader Aquilino Pimentel said in a television interview. Arroyo is perceived to be a staunch ally of the United States.
The rape case, a first since the VFA was enacted by the Philippines and the United States, is said to be a litmus test of the treaty.